A House Divided Against Itself Cannot Stand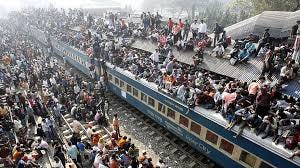 Abraham Lincoln's famous proclamation is as true of our global human presence as it is of houses. In his case he meant the evils of slavery and the bitter and tragic American Civil War kept the 'house' standing, even though its 'divisions' remain apparent.
Enough about that. It's merely background for the subject at hand, which is the impending disappearance of yet another species. What makes the subject relevant is that the species headed for extinction is humanity itself. Those who are presently alive on this planet, such as you and I, who will witness the early stages of our undoing, along with those who come after us.
What gives it further relevancy is the elephant in the room. We worry (and do nothing) about climate change, fret (and do nothing) about the dangers of unfettered capitalism, highlight the horrors (and do nothing) of floating islands of plastic the size of the state of Texas in our oceans and debate (while doing nothing) our concerns for social justice and wage-equity …
This post is for paid subscribers