A Letter to Trump Supporters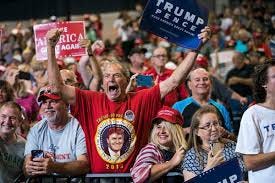 I'm a liberal. You are my people.
How can that possibly be?
Well, you're mostly (but not all) Republicans and you've elected the most divisive president the nation has ever known. I didn't vote for him, but I understand why you did and if he survives to be the nominee you will quite likely put him back in the White House.
Can we have a conversation about that? I hope so.
I've got a few years on me and I've seen eighteen presidential elections pass by the boards, eleven of them won by Republicans and seven by Democrats.
Beginning with Ronald Reagan in 1981, they seem to me to have been pretty much co-conspirators, Democrat or Republican, in the slow-drip destruction of the middle-class. And that's you. Actually, it's me as well and perhaps that's why I know where you're coming from.
The nation's in a hell of a mess and each party would like to point their finger at the other, but you and I know better. They're equally to blame and you saw that. All that highfalutin promise of change and no c…
This post is for paid subscribers