A SLAPP in the Face of American Civil Justice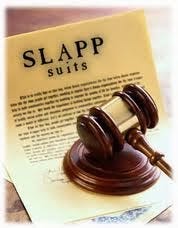 Money works in abstract ways in our society these days. If it can't buy what it wants from the House and Senate (or what passes these days for our Supreme Court), then it works to beggar the opposition through lawsuits. Money doesn't like opposition and by god it increasingly has none.
Never mind that our tattered Constitution guaranties our day in court. The Constitution never said it would guarantee citizens could afford that day.
But that's all preface.
Never heard of SLAPP? In this day of the constant blizzard of acronyms, that's not surprising. I read a lot of news and get buried in that
snowbank, Googling my way through a half dozen or so acronyms to try to make sense of the article. Who really knows, when PRM can mean Partner Relationship Management, Parameter, Professional Risk Manager, Project Resource Manual, Performance Reference Model, Public Relations Manager, Performance Report Message or Pulse Ratio Modulation? And that's a mere eight among the yet another fifty-three possi…
This post is for paid subscribers