A "We Must Defeat Trump" Campaign Will Assure His Re-election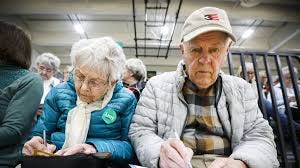 Ah well, now we are both engaged and enraged by the Iowa
Democratic Caucus debacle. More grist for the mill of too many candidates
slinging mud at one another in a strange American contest—one of whom will emerge
as the least tarnished candidate in an 18 month trial by exhaustion.
What a great way to choose a candidate
for the 2020 national election. My heart is, indeed, all a-flutter.
Democrats somehow (and with no credible evidence) seem to
feel they were robbed of the 2016 election. If half the nation merely came to
its senses, those who erred by electing Donald Trump would mend their ignorant
ways and return Democrats to power.
I have a news flash for them.
Half the voting public are far
from ignorant and the unsettling political times in which we find ourselves
thrashing about today have been coming down the pike for nearly half a century.
Item One: Half our country
is scared shitless.
Item Two: History shows
that populations scared shitless are vulnerable to saviors on white horses
and most savio…
This post is for paid subscribers