A Weinstein Moment in School Shootings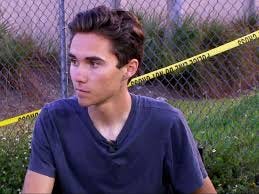 Every major societal change has its defining moment, that time when dithering is no longer possible and action unstoppable.  
Martin Luther King Jr's I have a Dream, the self-immolation of Tunisian shopkeeper Mohamed Bouazizi that began the Arab Spring, the #MeToo movement that rose out of the Harvey Weinstein revelations and now, finally, the deadly shooting at Marjory Stoneman Douglas High School in Florida are all such defining moments.
They have in common that their injustices failed to be addressed over the long term, were unsustainable in their specific areas of society and were the result of decades, sometimes centuries, of largely political inaction. 
We find ourselves at just such a moment. The adult world has failed our kids and the kids are taking action into their own hands. God love them, they are wiser than the dithering grownups helpless to come to their defense and are taking matters into their own hands. David Hogg is their amazingly powerful student-speaker at the momen…
This post is for paid subscribers