America in Decline? What are you, kidding?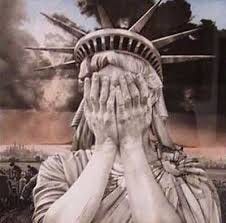 Like so many other subjective discussions, deciding whether the most powerful nation on the planet is in decline is bound to kindle a fire within all who rationally consider the premise. It simply cannot be. Or can it?
Perhaps a starting point would be to think seriously about what defines a consistently advancing society. Decline would be the opposite of that, or so we might agree. Okay, then let's define it and I welcome any useful additions to that subject. But here are my thoughts for starters:
An advanced society is one that is fair and equitable to all of its participants, that values education and enhances the chances of economic advancement at all levels (both rich and poor), encouraging growth. Throw in an economic base (capitalism will do nicely) along with a robust legal system, a system of social integration and support with guaranteed personal freedoms and you're pretty much there.
So how do we rate ourselves, using those general terms as a scorecard?
Fair and equitable is a …
This post is for paid subscribers