America is Not a Democracy, It's a Republic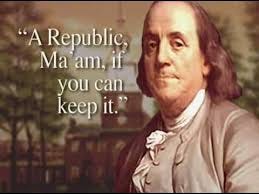 All this whining about America losing its democracy is entirely wrong-headed. The income-gap is high on the list, gun-control reads large and job losses connected to free-trade agreements are all major targets.
These are not targets without merit, but the cause is not a loss of democracy although they may well be democratic issues. Confusing Democracy with Republic clouds the issue and makes logical discussion difficult.
All of the above complaints are Republican issues (and by that I don't mean the Republican Party).
The United States was conceived (and remains) a Republic. When Benjamin Franklin was asked by a lady upon leaving the Constitutional Convention in Philadelphia, "What kind of government have you given us, Mr. Franklin?" his answer was, "A Republic, madam, if you can keep it."
If you can keep it were wise words by perhaps the wisest of our Founding Fathers. We as a nation struggled with that through slavery, presidential assassinations, wars and civil strife of the most diffi…
This post is for paid subscribers