American Airlines About to Go Bust? Fine With Me.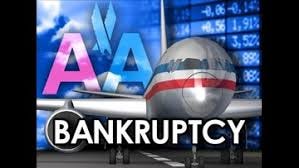 I've never been a fan of government bailouts, saving the
asses of investors or this warped sales-pitch we accept about too big to
fail.
My dad had a couple of sayings I've
never forgotten. One was that (in his view) behind every great fortune,
there's a crime. The second, and perhaps more pertinent to this
conversation, was that if you owe the bank $10,000 they own you, but if you
owe them $10 million, you own the bank.
The lessons here are naked for all to see: great wealth is
not only immune from the laws of the land, but protected by its gods
of government from financial loss.
American Airlines is a crap carrier
that's squeezed its passengers in seat space, baggage and other 'special
charges,' snotty service and tossed in arrogant public relations as an
afterthought.
Rather than investing their recent
and substantial profits from lower fuel costs in cash reserves or improving the
flying experience (a bar so low it could be stumbled across), it threw the cash
at stock buybacks, pumping the share pric…
This post is for paid subscribers