America's Absurd Relationship With Drugs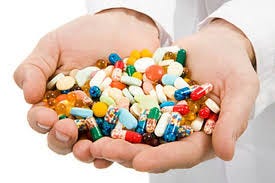 Far from 'winning' any any war on drugs (as if such a thing could even be measured), we feast on them within American society and condemn the mere whisper of their use among the athletes we revere. Don't dare enhance their performance.
Meanwhile, out there among us ordinary dudes, annual sales for Cialis last year topped $2.3 billion. Cialis is an erectile dysfunction drug. Talk about performance enhancement.
Then there's good old Prozac, for the treatment of major depressive disorder, including post-partum depression, obsessive–compulsive disorder, bulimia nervosa, panic disorder, and premenstrual dysphoric disorder. 
You got a disorder, Prozac probably has an answer. No matter that it also makes you twice as likely to suffer abnormal dreams, abnormal ejaculation (wonder what that means?) , anorexia, anxiety, asthenia, diarrhea, dry mouth, dyspepsia, flu syndrome, impotence, insomnia, decreased libido, nausea, nervousness, pharyngitis, rash, sinusitis, somnolence, sweating, tremor, vaso…
This post is for paid subscribers