America's Short-Tail Diplomacy in a Long-Tail Game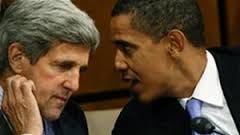 My convenient definition of 'short tail' for the purpose of this article is politics and 'long tail' is statesmanship. Politics usually (and far too often) shoots from the hip and statesmanship is the long and tedious work of looking way down the road for mutual agreement and benefit. True statesmanship is rare in the modern diplomatic world. Much to my surprise, Secretary of State John Kerry has shown himself (for me) to have this talent.
I understand that Americans are not much interested in International Diplomacy. We are a bread-and-butter, jobs oriented society and as long as we can plunk down the monthly payment on a late-model car, we're happy campers. Our focus outside our own borders stops at gas prices and preventing another terrorist attack. From this perspective we are more an island nation than a world power of unprecedented strength.
But the 98% of the world that lives elsewhere cares a great deal. I make the case that the ninety-eight percent's perception of America has, …
This post is for paid subscribers