Another take on ISIS (perhaps) being un-stoppable by the West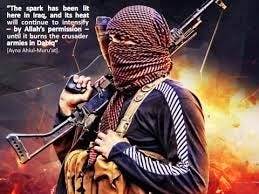 To understand the progress of ISIS, a rag-tag militant group raging across the Middle East, it's not a bad idea to take a look at the circumstances that made such savagery possible. Nationhood has not served the area well and ISIS builds upon ancient tribal cultures that cannot help but feel disenfranchised.
Like a forest that has been artificially prevented from the periodic burnings nature provides, the Middle East has long been accumulating tinder on its metaphoric forest floor. That build-up occurred because of its centuries of neglect of the common man and his hopes for a future—not a better future, but any future at all. It only awaited a spark to ignite an inferno no fire-fighters could control.
That spark was provided by a Tunisian street-vendor by the name of Tarek al-Tayeb Mohamed Bouazizi on the 4th of January in 2010. Bouazizi set himself on fire to protest the confiscation of his wares and the harassment and humiliation that was inflicted upon him by a municipal official an…
This post is for paid subscribers