Are We Hearing Echoes of Germany's 1936 Olympics and Neville Chamberlain's "Peace in our Time?"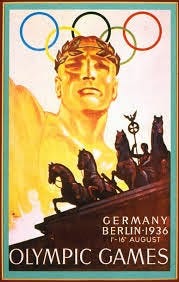 Perhaps so, as we watch Vladimir Putin move into Ukraine militarily on a similar time frame. Hitler showcased his newer, brighter, more modern and friendly Germany in the 1936 Olympics, catching both the eye and the approval of the world in spectacular fashion. His was the first televised games and filmmaker Leni Riefenstahl, a Hitler favorite, put together a $7 million extravaganza titled Olympia, an enormous sum in the middle of the Depression. Putin has just closed the most expensive Winter Olympics ever staged, to similar worldwide acclaim.
Behind the curtain of the Olympic flag, Hitler was demanding 'autonomy' for the 3 ½ million Germans 'oppressed' in bordering Czechoslovakia. He got his way from British Prime Minister Neville Chamberlain in Munich and the Czech Sudetenland was absorbed by Germany within six weeks of the closing Olympic ceremony.
Chamberlain announced at the time, "How horrible, fantastic, incredible it is that we should be digging trenches and trying on gas mas…
This post is for paid subscribers