Are We Wise enough for a Wisdom-Based Economy?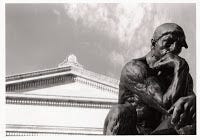 Interesting views come across my desk from time to time and Pepper de Callier's article is among them, to the degree that it began me thinking about how such an economy might be realized. Here's de Callier's opening: 
The Wisdom-based Economy[1]
Say good-bye to the knowledge-based economy.  Knowledge is everywhere.  We are awash in a sea of knowledge.  It is a commodity today.  Say hello to the Wisdom-based Economy.  This economy is driven by not only knowing how to use the knowledge we have access to, but understanding the subtle and powerful relationships among the various elements that come together to make wise decisions—sustainable decisions in a global marketplace.
Well, if possible (and if Pepper is correct) that would be a paradigm shift to match the latest of our supposed ages, the Information Age.
Waving goodbye to the knowledge-based economy might be a bit premature, if such a thing actually exists, but I get his drift. A bit of hyperbole heightens what is yet to come and whe…
This post is for paid subscribers