Austerity, in all its British Glory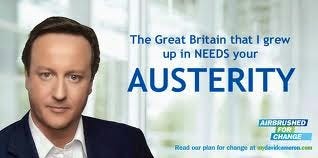 The British elections brought an unexpected landslide of power to David Cameron's conservative government. Now Cameron only has to figure and jigger a way to deliver on his promise to balance the British national budget by removing £12 billion pounds ($18 billion US) annually from welfare.
We Americans might well pay special attention to just how he does that and its affects upon the British social system because this election may presage our own in November of 2016. Even as the polls closed, Brit pundits insisted this election was too close to call and Cameron would most certainly have to rule by coalition. 
We Americans are not big on coalitions, preferring (in our two-party system) to call it bipartisanship. But would it be a great surprise to see Republicans sweep the presidency and both houses of congress in 2016?
Possibly. It was a surprise in London as well and now promises must be delivered. The fact is that the Republican Party has made similar commitments and our annual welfare…
This post is for paid subscribers