Austerity never works, for either the One Percent or the Rest of Us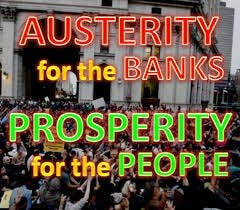 In this society we built for ourselves, consumerism is king. From those churning micro-trades to selling everything from burgers to affordable clothes, there must be a buyer. Upon that simple truth stands my premise.
Austerity seems to have worked for the 1%. The stock-market has doubled since 2008, as investment and commercial banks hardly know what the hell to do with their cash (apparently, anything except lend it to us).
But it's a chimera. Never in the history of the world has austerity saved a crippled economy. Without a healthy ability to consume at the middle and lower income levels, we're all at risk—every single struggling one of us—and as we stagger, the fabled 1% are about to fall in a spectacular fashion that will make 2008 look like the prelude it was. Put that in your pipe and smoke it on your way home from Davos.
Soon that fabled and tiresome minority of the wealthy will own it all and, for me, it cannot possibly happen soon enough. Having swindled a formerly healthy and …
This post is for paid subscribers