We are 'Buying Into' Continuous War at a Very Steep Price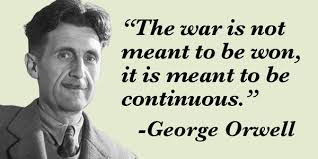 It can no longer be denied that the business-plan of
the Military-Industrial Complex is continuous, unwinnable, savage wars across
the globe.
Diplomacy, to the extent that we
actually have any in this century gave up on statesmen decades ago. There
are no Winston Churchills or George Marshalls on the scene these
days. Most Americans living today don't even remember who the hell they were.
Anyway, that's a bit of a wander from the conversation as
advertised.
America has been at pretty much continual
war since WWII and every time we get anywhere close to peace, Lockheed,
Boeing and Ratheon wind up the terror-clock by lining the pockets of our
congressional warmongers.
This post is for paid subscribers