Christmas for the Homeless—a Cardboard Bed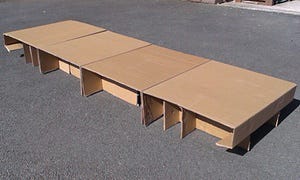 Every once in a while an article comes across my attention that simply astounds me with its approach. So it was when I opened a recent Guardian piece by Tash Reith-Banks, titled Creating cardboard beds for a more comfortable Christmas on the streets.
Indeed. A more comfortable Christmas, sleeping on cardboard.
"But is it possible to make a difference to the lives of homeless people without fundraising or investment? Psychology graduate and former primary school teacher Elliot Lord has set about doing just that. Having worked on conservation and sustainable living projects in Ecuador and then with refugees in northern India, Lord realized that his home city, Wolverhampton, would benefit from some development work. He moved back to Wolverhampton and started Our Own Future, a community organization dedicated to creating opportunities for those who lack them and to solving social problems."
More than somewhat smugly, Lord claims "It's a classic engineering start-point: find a problem, set ou…
This post is for paid subscribers