Centrist Democrats—Politics' Deer in the Headlights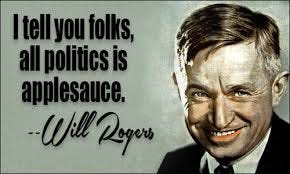 Humorist Will Rogers is famous for the comment, "I'm not
a member of any organized political party—I'm a Democrat."
He made that statement nearly a
hundred years ago and not much has changed since. The party of old white men
still trembles in the presence of changing times (as does its Republican
counterpart).
We may have outgrown our current two-party
system, at least in its obvious shortcomings related to voters. Neither party has
the slightest understanding of what's going on in America outside the Washington
bubble.
But for the moment our subject is centrist Democrats and we'll
leave the steaming pile of Republican dirty laundry for another conversation.
Democrats would love to win
in November—oh, would they ever. But they simply can't wrap
their little minds around how to do that,
no matter how great the opportunity at hand. Voters across the country
keep telling them what to do, that the nation and the times and the history before
us is ready for capitalistic socialism—but they chew and chew and…
This post is for paid subscribers