Drawn and Quartered; the Fate of American Business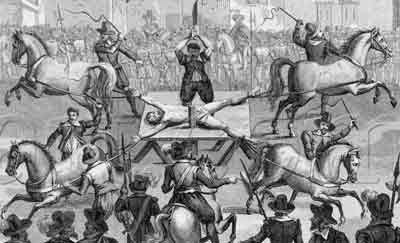 For nearly 600 years under English law, one could be 'drawn and quartered' for the crime of treason. Yet our present day crime is the Quarterly Report, upon which investors depend for their particular pound of flesh 'drawn' from the mismanagement of Corporations. Yet the simile is perhaps not too far removed from the fate of American Business.
Present-day investors are the owners of business . . . its absolute owners. Thus what they demand is profit, something to put in their pockets and those demands come due every financial quarter. The punishment for missing such owner expectations is a drop in stock price, essentially devaluing the companies they themselves own.
Now if that sounds like robbing your own pocket for a failure to fill that pocket adequately, you're dead right in theory. What prevents this theory from becoming fact is that stock ownership has none of the strictures icons like Edison, Ford, Rockefeller or Carnegie faced.
Those 'owners of industry' had to stick around and d…
This post is for paid subscribers