Europe Sows Austerity and Reaps Default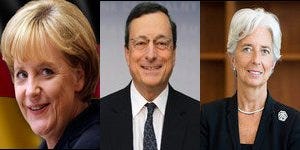 The Greeks have made their decision by a wide majority. What happens now is anyone's guess. That will no doubt be framed by ego and nailed to the wall of face-saving, but it need not be that way.
Greece presents an enormous opportunity for the European Union and European growth and stability, if only they recognize it for what it is.
The big question for the EU, ECB and IMF is precedent. What the hell happens if we change precedent? How frightening and we do not want to be frightened. What are the ramifications to Spain, Portugal, Italy and the demonstrably weaker southern nations of the Union?
It scares them to death. It need not. The present system of austerity (at any price) is weakening Europe and driving its members apart. Britain is a prime example of a (relatively) strong nation wanting to be elsewhere. Angela Merkel's Germany is the last guy standing in a field of the 28 politically-economically strung together members.
Strung together is an apt term—gallows-humor, as in "we eithe…
This post is for paid subscribers