Ever since This Anti-Muslim Thing Broke Out . . .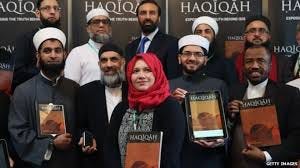 . . . I've Been Wondering When the Islamic Community Base Would Respond.
And now a network of religious leaders in the UK, ImamsOnline.com, has risen to the occasion. According to a Guardian UK article by Alexandra Topping, "Imams and Muslim community leaders have launched an online magazine in an effort to counteract "poisonous" views peddled by Islamic State."
An Imam leads prayers in a mosque; for Shiites an imam is a recognized authority on Islamic theology and law and a spiritual guide. 'Shiite' is important, because ISIS is a predominantly Sunni organization and Sunnis and Shiites are deeply split. In any event, it is progress long awaited.
I have for years believed that the traditions of Islamic teachings implored Muslims to act in moderation, in kindness and with justice. As a kid (and into adulthood) in Evanston, Illinois I was fascinated by the nearby Bahai Temple in Wilmette. My religious understandings are fuzzy here, but as I understand it, Bahaism was founded in Iran in the…
This post is for paid subscribers