From Proud Republic to Tattered Oligarchy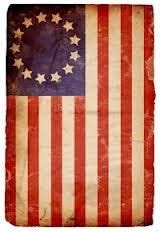 Let me tell you a story and it's not a tale full of laughs and giggles, but one that probably needs to be retold. It's not my story either, but the narrative of America, one of ebb and flow. Our proudest contributions to freedom throughout that 238 year history came when our backs were against the wall.
One might say we were born into that tradition, taking on England, the world's greatest power at the time, with our puny colonial forces to win our quarter-millennium of republican freedom. The founders of our trembling political experiment forged what was perhaps the planet's most promising document; the Constitution of the United States of America.
 But the road since sure has had its share of potholes:  
Another war in 1812, just thirty-six years later, when England sought to undo our break from sovereignty. English forces burned the White House, but we won that war as well and they've since left us in peace. 

Forty-nine years on was to come another existential test, as the American Ci…
This post is for paid subscribers