Grover Norquist, an Ordinary Guy with more power over Congress than the Koch Brothers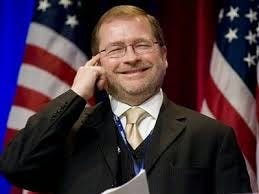 Mild enough looking dude to be so powerful. Never heard of him?
Grover is an American political advocate who is founder and president of Americans for Tax Reform, an organization that opposes all tax increases. Well that's okay, as there are a lot of people who oppose tax increase for one ideological reason or another and that's their own business.
But Grover is different and that difference has given him unprecedented influence over the Republican side of Congress, even though he's never been elected to any public office and is not a big campaign contributor like the Koch brothers or various PACs. Arguably, his power over the Republican side of American politics makes him a sort of shadow-legislator of enormous significance.
Slightly over 90% of the money it takes to run our American government comes from individual and corporate income taxes. For the past 23 years, since 1992, Grover has effectively handcuffed the Republican representatives in our Congress from raising those taxes.
He's…
This post is for paid subscribers