How Dare We?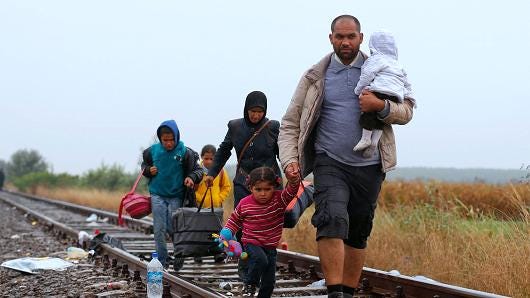 How dare we in Europe wrangle endlessly over taking in desperate migrants fleeing the bombs and disintegration of their own societies? Societies, I might add that have been made chaotic largely by Western interventions.
How dare we dither and discuss and speculate from the safety of our well-fed capitols of political ignorance while they (who have not lost their lives getting here) pile up in concentration camps, ignored and sullenly tolerated? Have we forgotten so soon our own bleak history of social and military injustice?
As a sort of disclaimer, I admit to being American but I have lived in Prague for some 22 years and take that as license to say we when discussing Europe. Beyond that, I have resided here and there for all or parts of nine decades and perhaps have a sense of history beyond that of the currently memory deprived.
Back to America for a moment (back to the future?).  The United States is arguably the greatest power in the world, although it often uses that power foolishl…
This post is for paid subscribers