Israel Exhausts its Worldwide Support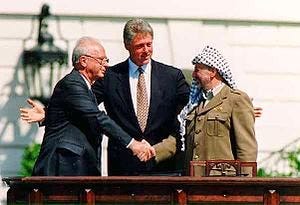 It's 1993 and Bill Clinton beams down (he's a pretty tall guy) on Yitzhak Rabin and Yasser Arafat, arms widespread as the two men shake hands. The Oslo Peace Accords have just been signed on the White House lawn, between Palestine and Israel. The deal outlines the 'elements and conditions' for a future Palestinian state. Rabin was eloquent:
"We who have fought against you, the Palestinians, we say to you today, in a loud and a clear voice, enough of blood and tears ... enough!"
For this, Rabin, Arafat and Israeli Foreign Minister Shimon Peres were awarded the 1994 Nobel Peace Prize. You gotta hand it to the Nobel selection committee, they are certainly optimists, more often giving that illustrious prize in the hope rather than the actuality of peace. Barack Obama is another who acquired it a bit on the early side. But those elements and conditions have been a sticking point for twenty-one years.
The Middle East is in chaos and the Arab side of most of the arguments have to do with the…
This post is for paid subscribers