Language Matters—Now as Never Before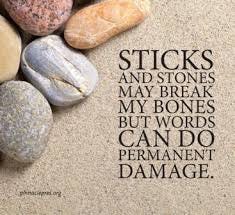 You have to be pretty old to remember "sticks and stones
may break my bones, but words will never hurt me." That's what we were told
as kids when the taunts of schoolmates on the playground upset us.
That was then, this is now.
Tell that to a parent who just
buried a child who ended their life after being bullied on Facebook or Twitter.
Words do hurt and sometimes they kill.
Bullies have been around forever—at least as long as two or
three kids ganged up to embarrass a fourth. But we knew who they were.
They had names and faces we recognized. Because our kid-worlds were small and
those who picked on us came from among us, at school or down the block.
Social media changed all that. Now
your or my kid has a thousand 'friends' on Facebook and no one to hang
out with after school. Social media is anti-social in the extreme…
…and that would be okay if it
wasn't for what it does to a kid's sense of self-worth at the most
vulnerable time in their life.
Self-worth begins with family, but it gets fine-tuned or
…
This post is for paid subscribers