Laws for Some of Us but Not All, Proving Again that Law Is Not Justice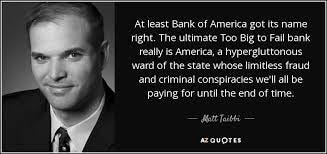 Pardon me while I try to control my anger.
Bank of America paid its way out of criminal activity a week ago…and we din't even bother to rise off our sofas in outrage. Essentially, we as a nation don't give a damn and so the Banksters just smile their way to the next quarter's earnings reports. Donald Trump seems to have sucked all the oxygen out of indignation.
This Reuters article (Jonathan Stempel, March 23, 2018) is just a bit over a week old today, but it slipped by almost overnight as 'yesterday's news.'
Bank of America Corp (BAC.N) will pay a $42 million fine and admitted wrongdoing to settle claims by New York's attorney general that it fraudulently routed clients' stock trades to outside firms…He (NY Attorney General, Eric Schneiderman) said the bank told clients it was processing the trades in-house, even going so far as to alter trade confirmations, as part of an effort to make its electronic trading services appear safer and more sophisticated than they were.
Interesting th…
This post is for paid subscribers