Leaks, Drizzles, Floods and Occasional Showers
If government is metaphor for nature (and that may be a leap of faith), then its health is best assured by occasional watering. But you can't grow a lush garden in a long drought. 
Enough figures of speech, let's get down to cases. Amazingly to those of us who hoped for better, knowing full well it was too much to ask for excellence, the overwhelming umbrella of surveillance under which we stumble along is unacceptable. Were it not for a Bradley Manning here and an Edward Snowden there, along with the access provided by Julian Assange's Wikileaks, who would possibly know what's being done in our name?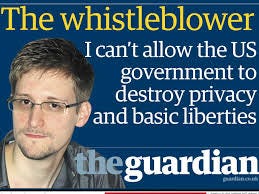 But Snowden and Manning are being made 'examples' of in the hope and expectation, not so much of punishing them, as shutting down anyone brave enough to let we poor, enfeebled and spoon-fed citizens know what the hell our government is up to. The deeper hole a leaker is thrown into, the less likely a source may chance that public burial and media-fed disgrace. Yep, it's hard not to blam…
This post is for paid subscribers