Mr. Trump Sees Enemies Everywhere—So We Do As Well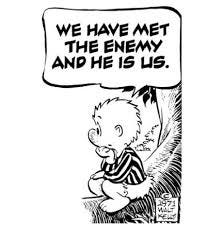 The recipe for the toxic soup our current president is ladling out is three parts fear to one part frustration—and America has much about which to be frustrated.
While no one was looking, we decided to give up being an industrial society and try on the flashy wardrobe of consumerism. Of course that means we don't make all that much of what we consume and so factory jobs at good wages have now become mostly service jobs with no contract, health care, retirement or vacation benefits. The enemy here is hard to name, but it's likely listed on the stock exchange.
And then there's the fact that the national credit card is way over-limit and whoever ran up all those charges wants the least able of our citizens to pay the bill. There are lots of names for this—austerity, quantitative easing, welfare restructuring—but they all have one thing in common, those who have grown fat want those who are the most lean to pick up the tab. It's a swamp all right, but there doesn't seem to be much drainage.
…
This post is for paid subscribers