Nothing new here—except a Good Idea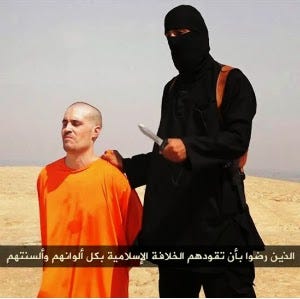 The current terrorist plots are not another 911 or suicide bombing in New York. They're an agonizingly simple and effective ploy that better suits their available resources: they simply behead Westerners. Cheap and effective.
Effective because it puts them at little risk and either pulls in ransom or, in lieu of that, produces an unending worldwide press orgy that shows off the power of the powerless. Cheap because it's frighteningly easy to grab a foreigner and dangle his fate before the world. Western media can't possibly ignore the videos. Pretty good marketing for an extortion formula such as has never been seen.
This gruesome recipe is enhanced by the innocence of the victims. Other than the Jordanian pilot, they are for the most part journalists, workers for NGOs and others who are well-meaning in an area where meaning well can lose you your head. The agony of families, pleading for mercy simply keeps the pot boiling. Mercy is not a player in the game.
Up until now, America and a f…
This post is for paid subscribers