Personal and Corporate Debt—When Will We Learn the Lessons of History?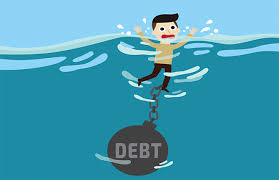 Judging from current financial opinion, perhaps never. Debt is
the driving force of America's consumer society. But at what price to human
values?
Values? What would possibly be the human values
connected to excessive debt?
For starters, wage growth, a
rebirth of the middle class, the ability in these troubled times to save for a
home, educate our children, buy a new sofa and escape the slavery of a
credit-card lifestyle.
That's it folks, we've become
slaves to credit. Slavery is defined as the state of being under the control
of another person, as well as work done under harsh conditions for
little or no pay.
In America alone, debt connected to
credit-cards, auto and college loans surpass $1 trillion in each
category.
In today's gig economy, with workers being increasingly
hired as independent contractors, a living wage, paid holidays, health
insurance, profit-sharing, union representation and pension plans are all
off-the-table. What is that, if not financially engineered slavery?
This post is for paid subscribers