Slavery Reparations. What Does That Even Mean?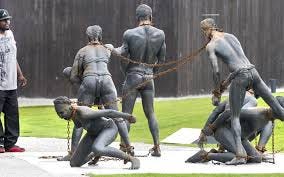 Okay, count me on board morally. Slavery was one of America's most egregious shames
and more Americans were killed in our Civil War than all other wars combined. But I've got an ethical problem with handing out cash.
Emancipation didn't actually solve
anything for black Americans. Up to and including today, we
simply played out the white/black American conundrum by other means, such as
voting rights violations, segregation, economic isolation, backwater education
and ghettos.
And now we think we can make things right with money?
Well, that's my stop. Here's where I get off the bus and, until very recently,
it was from the front of the bus.
Last week's congressional hearing
brought out calls for a long unmet duty to be met, rebutted by
what was done 200 years ago is of no consequence to white Americans today.
No consequence, huh? Racism in America today is the
consequence.
Those facing elections—and
they're all facing elections— tellingly kicked the can down the road by
promising to hold a hearing on t…
This post is for paid subscribers