Stock-Market Optimism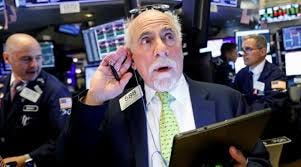 Breathtaking news, Wall Street investors are breathless
with optimism. The world is going to hell in a breathlessly accelerated
hand-basket, but, according to Bloomberg, U.S. equities climbed to new highs
after "China said it agreed with America to roll back tariffs on each
other's goods in phases as they work toward a trade deal."
Rolling back, are they?
Renegotiating who gets summers with the kids, before the divorce becomes final?
And what does it mean that China agreed with America? Have they checked
Donald's Twitter stream? And not to put to sharp a point on it, but what's the Prez's
batting-average on keeping agreements?
There is a saying that "a 2nd marriage is the
victory of optimism over experience." One can make the case that current
market optimism mirrors Wall Street's 2007 marital disaster.
Then we had home mortgage derivatives.
Now, that bubble's burst—taking a major portion of American home ownership down
the tubes with it. The new game in town is shady business-loan derivatives and
on…
This post is for paid subscribers