The 2018 Mid-Terms, Love, Hate or the Overlap at the Polls?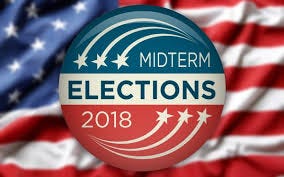 For the first time in a very long life of political interest, I have absolutely no idea how the mid-term elections tomorrow will turn out. But I do know this:
There is a very large overlap in opinion that prevents this election from being a referendum on either love or hate for the current state of politics in America. A sweep on either side is unlikely. My hope is that the overlap will show itself.
My ballot was an early one, as I live outside the country and it has already been counted. And, of course, that ballot was marked by choices among candidates, because that's the system under which we are governed. But individual candidates are a long way from telling the true story. The true story, if it reveals itself, is one of overlap.
Individually, we do not belong safely in those frequently named categories of rich or poor—lower, middle class or one-percenters. Individually we overlap. Most of us are not either with or without healthcare, decent education or opportunity. The large majori…
This post is for paid subscribers