The Age of Lost Legitimacy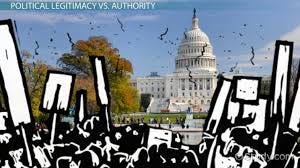 What is legitimate (in accordance with recognized or accepted standards or principles) in this world as we move forward? 
Along with statesmanship, is it well and perhaps permanently behind us? We know where statesmanship went—long gone, the victim of partisan politics, but what of legitimacy itself?
One might wonder if it is legitimate to continue to support a Saudi government in the clear evidence of primary responsibility for the 9-11 attack on the World Trade Center, their support of the most radical forms of Islam and continued human rights suppression. This is best and most recently indicated by the murder and dismembering of a critical journalist within their embassy in Turkey. 
Yet armaments sales are offered as a reason (more likely the reason) for the unreasonable, because profits and jobs at Boeing, Lockheed and Ratheon are more important and we must use them to stabilize oil prices, even as oil fades as an energy source. They are on our side against Iran in the Middle Eastern…
This post is for paid subscribers