The Gaza War and the Century of the Militants
I take your Finger and you take my Hand, but it will never stop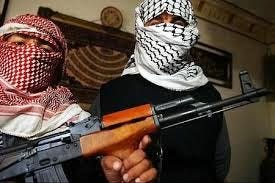 Hamas of course is the big bogeyman of Palestinian rocket attacks on Israel, but the five thousand or so shot off in the years since 2001 come from an assortment of players--all Palestinian armed groups are involved; including Islamic Jihad, the Popular Front for the Liberation of Palestine, the Popular Resistance Committees, Fatah and the Democratic Front for the Liberation of Palestine. Total Israelis killed by rockets since 2001? Twenty-eight.
Israel's response?
(Jerusalem Post, Sept 4, 2014)
Rebuilding Gaza will cost $7.8 billion, the Palestinian Authority said on Thursday, in the most comprehensive assessment yet of damage from a seven-week war with Israel during which whole neighborhoods and vital infrastructure were flattened.
The cost of rebuilding 17,000 Gazan homes razed by Israeli bombings would be $2.5 billion, the Authority said, and the energy sector needed $250 million after the Strip's only power plant was dest…
This post is for paid subscribers