The Left-Out Part of Immigration Reform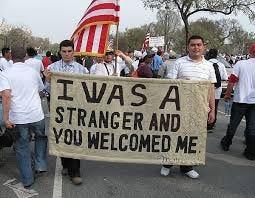 It's very fashionable these days to speculate on immigration
reform. Our current president has his own views, most of which are keep 'em
out, but current Democratic presidential candidates have jumped on the
bandwagon as well.
Senator Elizabeth Warren is the
latest, with I have a plan for that and she has some pretty good ideas.
But one thought I've had for decades now gets no  mention at all and I wonder why.
If we were to issue work return visas to our Mexican
neighbors, it could move a long way toward lessening the pressure on our
southern border. How would such a visa function?
A visa is issued for seasonal
work on the basis of an employer willing to hire. That could be
extended by additional willing employers who need seasonal workers.
Think of agriculture, landscapers and job-related industries, such as contractors
with a project to build. When continuous employment ends, the worker returns to
his native country with the guarantee he can return to a willing employer.
Fear of return is gone and …
This post is for paid subscribers