The Trump Presidency: Week One, Possibly a Win-Win for Trump and the Nation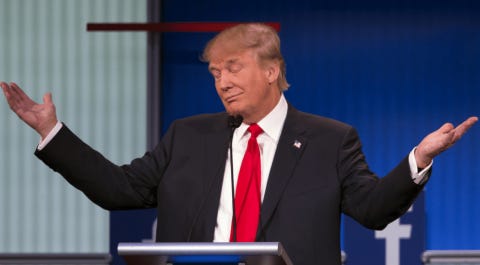 A win-win? Give me a break.
Let me explain. God knows there is much to explain, so let me set the terms of the discussion from my point of view. I have begun to feel, more and more intensely that Donald Trump is far more interested in being Donald Trump than President of the United States. Week one is the cornerstone of both his hidden goal and my shaky but hopeful point of view.
First of all, I don't believe for a moment he thought he was going to win and, much like the dog that has unexpectedly caught a rabbit, now he must decide what to do with it. He's decided. Catching the rabbit was more important than the rabbit. His first week sets the scene for abdicating the presidency and returning to the life he has always enjoyed and promoted—being Donald Trump.
As a brand, he has always shown little interest in either running businesses or settling into the hard work of making them successful. The next deal and next headline was always the goal and the Devil take the hindmost.
The Presidency…
This post is for paid subscribers