The Unsustainable cannot be Sustained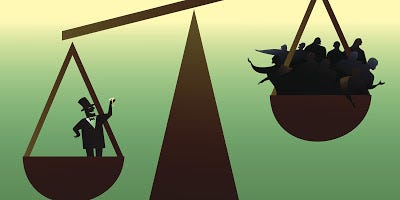 There was a shocking headline in today's Guardian newspaper: World's eight richest people have same wealth as poorest 50%. Shocking, from several points of view:
First of all, reading further into the article, two years ago the sixty-four wealthiest people in the world held that title. Last year the number has been reduced to eight. Most fair-minded folks will feel such a statistic is beyond their ability to comprehend such a fact. Others will decry the system that supports such uneven distribution, while a third bunch will make a call for pitchforks and barricades. The wretched and poor of the planet have no voice, so we are unable to ask their opinion. They are, to a large extent, too concerned about simply making it day-to-day without losing a child to starvation.
I make no claims against the fairness, comprehension, revolution or silent deaths of tens of millions. Nor do I decry the motives of the wealthy. Many are those I call the 'accidentally rich,' like Mark Zuckerberg, the fo…
This post is for paid subscribers