Time for another Nixon-Kissinger style trip to Beijing—this time to Moscow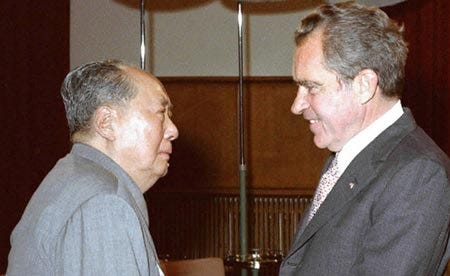 In 1972, exactly 43 years and four months ago, newly elected President Richard Nixon and his National Security Advisor, Henry Kissinger visited China. They met with Chairman Mao and Premier Zhou Enlai. The stakes were high; easing our recognition of Taiwan as China was on the menu, as was building consensus with ending the Vietnam War and inserting a wedge in the close relationship between Russia and China, our two major adversaries. 
It was a brave and highly risky move, but it worked.
"Nixon going to China" has since become a metaphor for an unexpected or uncharacteristic action by a politician (Wikipedia). It's long past time to make a similar conciliatory move toward Moscow. We need another American president willing to make a 'brave and risky move.'
Nations move slowly. Their mistrusts are deep and generally well-founded, but they do move and America's relationship with China today is that of a major trading partner. They remain a communist country, but we are learning (painfully sl…
This post is for paid subscribers