Today's US Contribution toward World Peace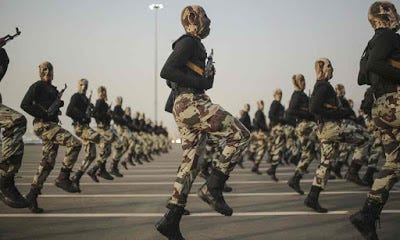 US nears $100bn arms deal for Saudi Arabia in time for Trump's visit.
Well what a wonderful headline, appearing on a weekend as such things do when the attention of the world is elsewhere.
"The official, who spoke to Reuters on condition of anonymity (don't they all?), said the arms package could end up surpassing more than $300bn over a decade to help Saudi Arabia boost its defensive capabilities while still maintaining US ally Israel's qualitative military edge over its neighbors."
Aha! Israel will maintain a 'qualitative' edge while all this shit goes down. Well, thank god for that. Not so sure how Saudi will feel about laying out that kind of cash and still finding themselves on the qualitative short end, but that's what we're supposed to believe as we fret about paying our mortgage and being stripped of our health care.
I for one am getting tired as hell of Saudi Arabia—their insufferable princely Princes, their Wahabism (a conservative and intolerant form of Islam that is practiced …
This post is for paid subscribers