Water is the New Oil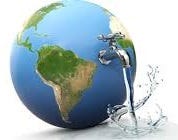 Okay, you might not be able (yet) to run your car on it, but oil is at the moment a universal need. So is agricultural and potable water. We can painfully accept shortages of oil, either by price increases, alternative fuels or conservation. But fresh water is essential to life itself and from there, allow me to draw certain conclusions.
The energy business should be looking over its shoulder at such disruptive technologies as solar, wind and thermal. A disruptive technology is one that one that displaces an established technology and shakes up the industry. Kodak faced one with the arrival of digital photography and it not only shook them up, it effectively destroyed the company.
A May 25, 2015 Guardian newspaper headline reads: Oil company bosses' bonuses linked to $1tn spending on extracting fossil fuels. Exxon Mobil, Shell, Chevron, Total and BP pour funding into projects to unlock oil reserves – despite scientists warning they will lead to climate change disaster. That headline may…
This post is for paid subscribers