We Value Your Privacy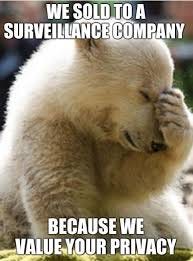 A bald-faced lie and a proper crock of shit. And yet these
sites persist in coercing their followers to voluntarily throw in the blanket and
give up what little privacy remains.
When you visit TheAtlantic.com, The
Atlantic and our partners use cookies and other methods to process your
personal data in order to customize content and your site experience, provide
social media features, analyze our traffic, and personalize advertising on both
our family of websites and our partners' platforms.
Doesn't sound much like valuing my privacy unless
they mean it in the dictionary definition: "fix or determine the value of;
assign a value to."
Bloody hell, I reckon that's it.
Please click "I Accept"
to accept this use of your data. Alternatively, you may select "Set My
Preferences" to accept (or reject) specific categories of data processing.
For more information on how we
process your personal data - or to update your preferences at any time - please
visit our Privacy Policy.
Now I already pay subscription rates…
This post is for paid subscribers