What Happened to the Money, Harry?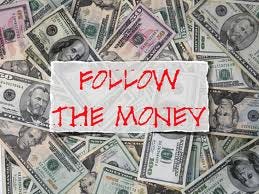 Money, money, money, we're all tearing our hair out about money running government and yet it's like the weather, everyone talks about it, but no one does anything. The brutal fact is that, like the weather, nothing can be done but to tough it out. How the hell did we get here?
Like most attacks on representative government, it didn't happen overnight. Over decades, Congress awarded itself perk after perk, from gold-plated healthcare to taxpayer paid 'junkets' all over the world, a working week that includes only 113 days, party gerrymandering that very nearly insures re-election and no time left for thoughtful legislation.
More recently, they made up a few self-serving laws so lobbyists could pay them to support particular legislation. In simpler days we called that bribery, corruption and fraud. And I almost forgot, once having left Congress, Senators and Representatives join the very firms that lobbied them as consultants—at six and sometimes seven-figure salaries. (Brings a whole…
This post is for paid subscribers