What's Edward Snowden's connection to the Trans Pacific Partnership (TPP)?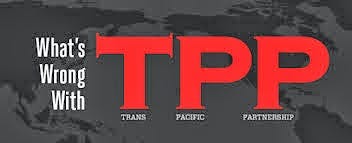 Actually, none in the straight line we're used to, as in his NSA leaks. But connections are not always direct and occasionally, setting the stage is vitally important to the play that follows. In this particular case, the whistle was blown on a key portion of the secretive TPP 'trade' meetings by another controversial guy, Julian Assange at Wikileaks.
This trade agreement (and I use the word loosely, because less than half a dozen of its 26 chapters deal directly with trade) has been under negotiation for a good long time. It didn't raise much in the way of eyebrows until lately. Who really pays attention to this stuff in a crowded news cycle? Yet, flying well under the public radar, it's a highly secretive affair, one the United States Congress consistently demanded information about, but can't get. Can't bloody get it. 
Penny Pritzker, the Secretary of Commerce is negotiating the future of working America and will not tell the Congress what she's up to. President Obama plans to hav…
This post is for paid subscribers