While I Wasn't Looking, Someone Privatized My Senator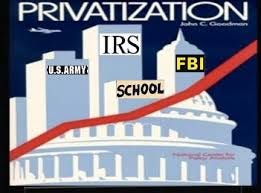 It's no surprise our private health care system is by far the most expensive system in the developed world, anywhere from three to ten times higher in the U.S. than in Great Britain, Canada, France, or Germany. That suits insurance companies—although they wouldn't even exist under universal single-payer care—and it's a gravy-train for pharmaceutical companies.
But privatizing a Senator? My Senator? That's a bit of a stretch.
Just about everything privatized costs more, so maybe not so much of a stretch as it first seemed. Take water as an example: private companies charge up to 80 percent more for water than municipalities. Nestle, as an example, buys water for about 1/100 of a penny per gallon and sells it back for ten dollars. Their bottled water is not much different from tap water, yet Nestlé Chairman Peter Brabeck lit up the internet by publicly declaring that water as a right is 'extreme' and claims water is a foodstuff best left in the hands of private investors. Water as a foods…
This post is for paid subscribers