Who's in Charge Here?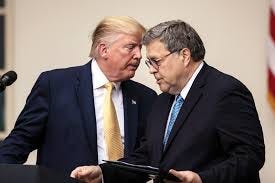 Essentially, the nation's top cop is the Attorney General of
the Justice Department.
Like so many other Cabinet Members,
Bill Barr sets a low-bar for the duties assigned him. And he's worth
singling-out because he has such a diverse and widely-spread influence on our
lives as ordinary citizens.
When the FBI knocks on your door,
Bill Barr sent them. This dude runs the Federal Prison System as well and reviews
the conduct of local law enforcement as directed by the Violent Crime
Control and Law Enforcement Act of 1994.
He's who's in charge here, in
law enforcement. The top guy.
Which has historically been pretty
much okay, with a glitch here and there such as J. Edgar Hoover. But someone's
got to do the job and Bill Barely measures up.
(David R. Lurie) Perhaps Barr's
ignorance about the role of the prosecutor helps explain his ineptitude, but
that hardly excuses it.
Since the early 1990s, he has
had the unique ability to advocate policies that been remarkably ineffective
and costly to the American taxpayer…
This post is for paid subscribers